Hello Fiber Arts Enthusiasts!!!
Welcome to Chetnanigans, "Home of The Original Crochet Hook Organizer / Workstation!"  
We would like to share with you the story of our company.  My name is Sean O'Brien and I've had a deep interest in working with wood most of my life.  Prior to my early retirement from working with a large electronics corporation, wood working was a passion and hobby that filled my weekends.  Once retired, I found myself spending more time in my little workshop crafting various items and projects for family and friends.  While my passion has been wood working, Holly has been crocheting for most of her life.  She was just a little girl when her grandmother introduced her to the art and she took to the craft immediately.  Over the years, she has become quite a crochet professional and enthusiast.
One day in late 2014, Holly asked me if I could build her a Hairpin Lace Loom.  She had been searching in stores and online for a quality product and was unable to find exactly what she was desired.  What she was able to find did not meet the quality she desired, the materials were all wrong and the pricing was too high for the products offered.  Personally, I had no idea what a Hairpin Lace Loom was, but Holly assured me that she could explain it and was confident I had the skills to build exactly what she needed…so off we went to the workshop.  It took a few iterations to get it right, but soon Holly was using her new loom and raving about how smooth and functional it performed!  A few weeks later, she shared it with her local monthly Crochet Group Meeting right here in Midlothian and it was the hit of the gathering!  Based on her group's response (and their requests to build more), in early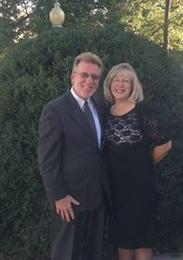 2015, we began offering them locally and on eBay.
A few weeks later, one evening while Holly was crocheting, she elected to change hooks for a project she was crafting.  She picked up her vinyl bag, unzipped it and began looking for that one hook she needed… uh oh, wrong bag!  She zipped it closed and reached for her "other" vinyl zippered bag and began digging through that one (sound familiar?).  I was was watching and thinking, this is clearly not the most efficient way to store your crochet hooks!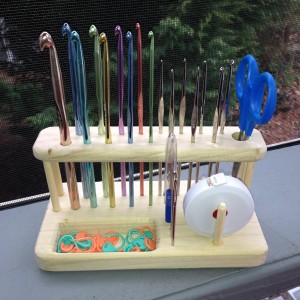 So thinking of helping Holly (and others) solve their crochet professional workflow challenges, the next morning I showed Holly a design for a desktop crochet hook holder.  Although it wasn't the perfect design, the idea of the product was born!  That day, I purchased a drill press, redesigned the plans and built for her the very first organizer.  When she returned home from work that day, I had placed it on the kitchen counter anxiously awaiting her thoughts and comments.  She loved it!  She was so impressed with the product that she posted pictures of it on two of her Crochet Group sites.  Over the next 24 hours, we received over 4,000 likes!  For me, I felt this may be a seriously under-serviced market.  After thoughtfully creating a business plan, we launched Chetnanigans in March of 2015.
We opened a shop on Etsy, hoping to gain some traction and envision the demand for these types of products among crochet professionals.  In our first month, we processed over 50 orders for a total of 70 items.  In June, we introduced a new product called "The Elite" Organizer / Workstation" and the next big hit for Chetnanigans was realized!  In our first 30 days we sold nearly 20 "Elites" and it's popularity continues to grow every day.  Since it's introduction, "The Elite" has become Chetnanigans' most popular product.
We continue to explore fiber art enthusiasts workflow challenges that are experienced every day and design solutions to address these issues.  As a result, we have grown our product offerings to over 50 handcrafted items that elegantly address our customers concerns.
We are now in our second year of business and are as excited as we were in when we launched the company in March of last year.  Our plans are to include the introduction many new products (expanding into organizers for knitters) and categories (Peg Looms, Pom Pom Looms and more!).
Thank you for stopping by and looking at what we have to offer.  Be sure to come back often as we are continually are adding new products to our innovative line up.  Visit our Facebook page, as we often provide "sneak peeks" of new products with our Facebook friends (while there, feel free to "Like" us!).
Finally, if you have an idea for a product that would improve your daily workflow challenges, be sure to reach out to either Holly or myself.  We love working with our customers to design and build new solutions as this is a passion for us!  Who knows, your idea might just be the next big hit for Chetnanigans.
Thanks and God Bless,
Holly & Sean